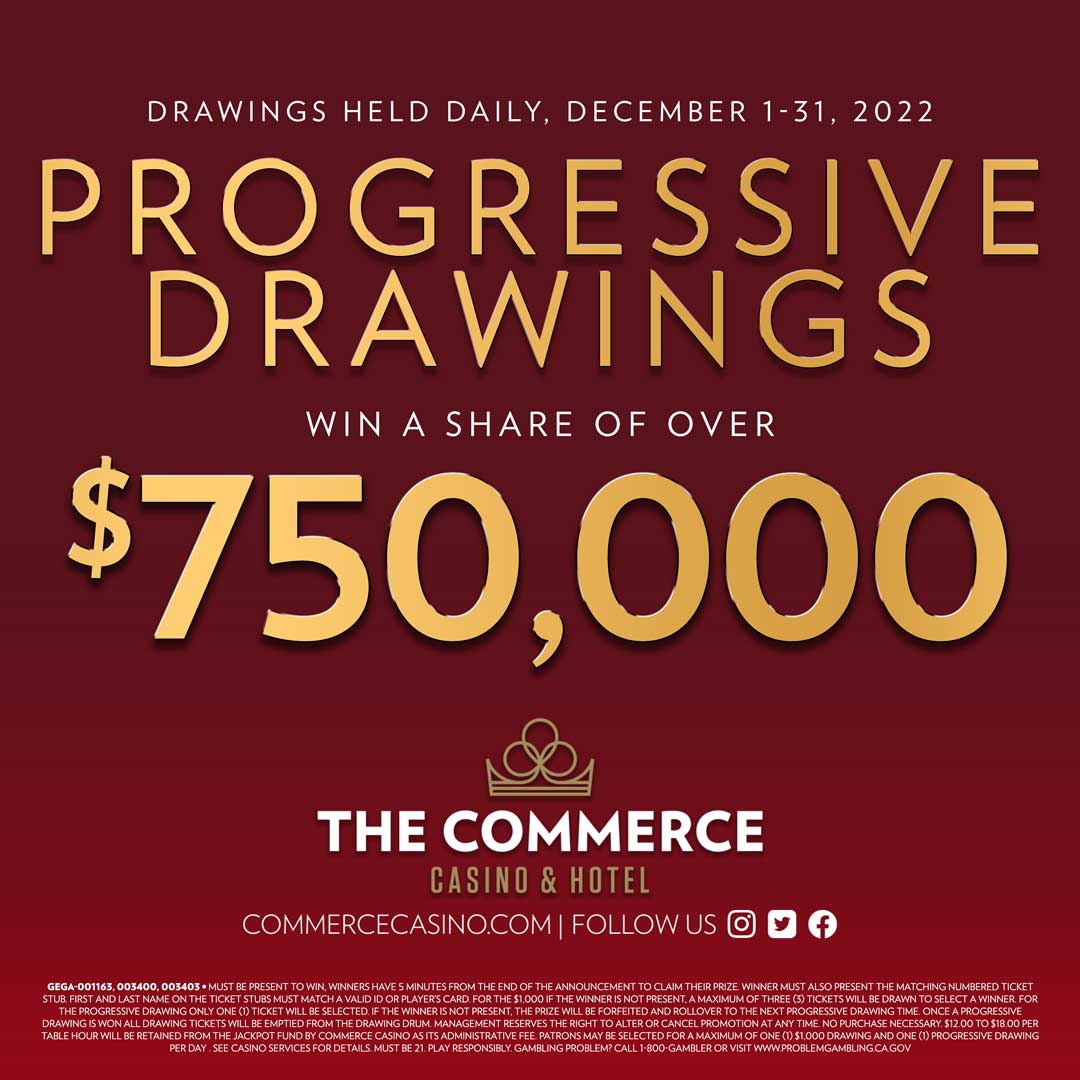 Win a share of over $750,000 at The Commerce!
Daily, December 1 - 31, 2022
Promotion Details:
Open to our Cal Section Players.
Entry Earning Times Drawings: 6:00am - 10:45pm.
Receive a drawing ticket for qualifying hands. See promotional handout link below for qualifying hands.
$1,000 Drawings held daily at 11am, 12pm, 1pm, 2pm, 4pm, 5pm, 6pm, 8pm, 9pm and 10pm.
Progressive drawing amount starts at $10,000!
Progressive Drawings held daily at 3pm, 7pm, and 11pm. One winner will be selected, if winner is not present $5,000 will be added to the next progressive drawing time.
Once a progressive drawing is won the amount will reset to $10,000.

GEGA-001163, 003400, 003403. Management reserves the right to alter or cancel this promotion at any time. Must be present to win, winners have 5 minutes from time of the conclusion of the initial announcement to report to a Casino Representative at the place of the announcement. Once the winner(s) announce their presence he or she must present his or her matching manual drawing entry and valid photo identification or Commerce Casino Players Card within 3 minutes of checking in with the Casino Representative. For the $1,000 drawings, if a winner is not present, up to 2 additional tickets for a maximum of 3 per drawing will be selected. If winner is not present, the prize will be forfeited. For the progressive drawings, one ticket will be selected, if the winner is not present the prize will be forfeited and rollover to the next progressive drawing time. The drawing drum will be emptied once the progressive drawing is won. Progressive drawing amount restarts at $10,000 once it hits. Players may only win one $1,000 drawing and one Progressive drawing each day. $12.00 to $18.00 per table hour will be retained from the jackpot fund by Commerce Casino as its administrative fee. No purchase necessary. See casino services for details. Must be 21. Play responsibly. Gambling Problem? Call 1-800-GAMBLER or visit www.problemgambling.ca.gov .